Product model Parameters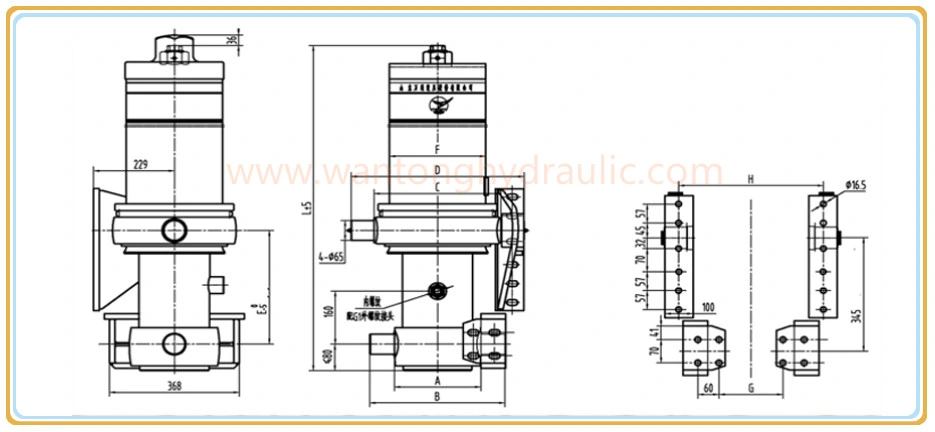 | | | | | | | |
| --- | --- | --- | --- | --- | --- | --- |
| ITEM | MODEL NO. | # of Stages | Largest Moving Stage Diameter(mm) | stroke(mm) | the largest sleeve OD(mm) | mounting distance(mm) |
| 1 | WTFC 4TG-E152*4280ZJ | 4 | 152 | 4280 | 272 | 335 |
| 2 | WTFC 5TG-E152*4280ZJ | 5 | 152 | 4280 | 272 | 335 |
| 3 | WTFC 4TG-E160*5390ZJ | 4 | 160 | 5390 | 272 | 335 |
| 4 | WTFC 4TG-F175*4280ZJ | 4 | 175 | 4280 | 272 | 335 |
| 5 | WTFC 4TG-F175*5390ZJ | 4 | 175 | 5390 | 272 | 335 |
| 6 | WTFC 4TG-F175*5700ZJ | 4 | 175 | 5700 | 272 | 335 |
| 7 | WTFC 5TG-F175*5390ZJ | 5 | 175 | 5390 | 272 | 335 |
| 8 | WTFC 5TG-F175*5700ZJ | 5 | 175 | 5700 | 272 | 335 |
| 9 | WTFC 4TG-F185*4650ZJ | 4 | 185 | 4650 | 272 | 335 |
| 10 | WTFC 4TG-F185*5000ZJ | 4 | 185 | 5000 | 272 | 335 |
| 11 | WTFC 4TG-F185*5700ZJ | 4 | 185 | 5700 | 272 | 335 |
| 12 | WTFC 4TG-F185*6180ZJ | 4 | 185 | 6180 | 272 | 335 |
| 13 | WTFC 5TG-F185*5000ZJ | 5 | 185 | 5000 | 272 | 335 |
| 14 | WTFC 4TG-F200*6000ZJ | 4 | 200 | 6000 | 272 | 335 |
| 15 | WTFC 5TG-F200*6500ZJ | 5 | 200 | 6500 | 272 | 335 |
| 16 | WTFC 4TG-F175*4280BH | 4 | 175 | 4280 | 244 | 325 |
| 17 | WTFC 4TG-F175*4650BH | 4 | 175 | 4650 | 244 | 325 |
| 18 | WTFC 4TG-F175*5390BH | 4 | 175 | 5390 | 244 | 325 |
| 19 | WTFC 4TG-F185*5700BH | 4 | 185 | 5700 | 244 | 325 |
| 20 | WTFC 4TG-F185*6000BH | 4 | 185 | 6000 | 244 | 325 |
| 21 | WTFC 4TG-F185*6180BH | 4 | 185 | 6180 | 244 | 325 |
| 22 | WTFC 4TG-F200*6000BH | 4 | 200 | 6000 | 244 | 325 |
| 23 | WTFC 4TG-F175*4280JT | 4 | 175 | 4280 | 244 | 325 |
| 24 | WTFC 4TG-F175*4650JT | 4 | 175 | 4650 | 244 | 325 |
| 25 | WTFC 4TG-F175*5390JT | 4 | 175 | 5390 | 244 | 325 |
| 26 | WTFC 4TG-F200*5700JT | 4 | 200 | 5700 | 272 | 325 |
| 27 | WTFC 4TG-F200*6180JT | 4 | 200 | 6180 | 272 | 325 |
| 28 | WTFC 4TG-F175*4450HT | 4 | 175 | 4450 | 244 | 345 |
| 29 | WTFC 5TG-F200*6180AF | 5 | 200 | 6180 | 272 | 325 |
1.Company profile

*History: 22 Years of history, the registered capital of 60 million yuan
*Scale: 180000 square meters,with 500 employees
*Capacity:Annual production of more than 200,000 sets
*Equipment:700set ,invested a large amount of money in introducing one electroplating production line.
*Certificate:ISO9001,ISO/TS16949,ABS,AQA etc
*Delivery time:20 Days
*Service:52 Service Outlets nationwide,24-hour Service
*Accept Custom
2.produce line
700 sets manufacturing equipment,such as cold drawing production line ,heat treatment production line ,surface treatment production line,testing equipment,various digital-control machining equipment,gantry style linear electroplating production line
.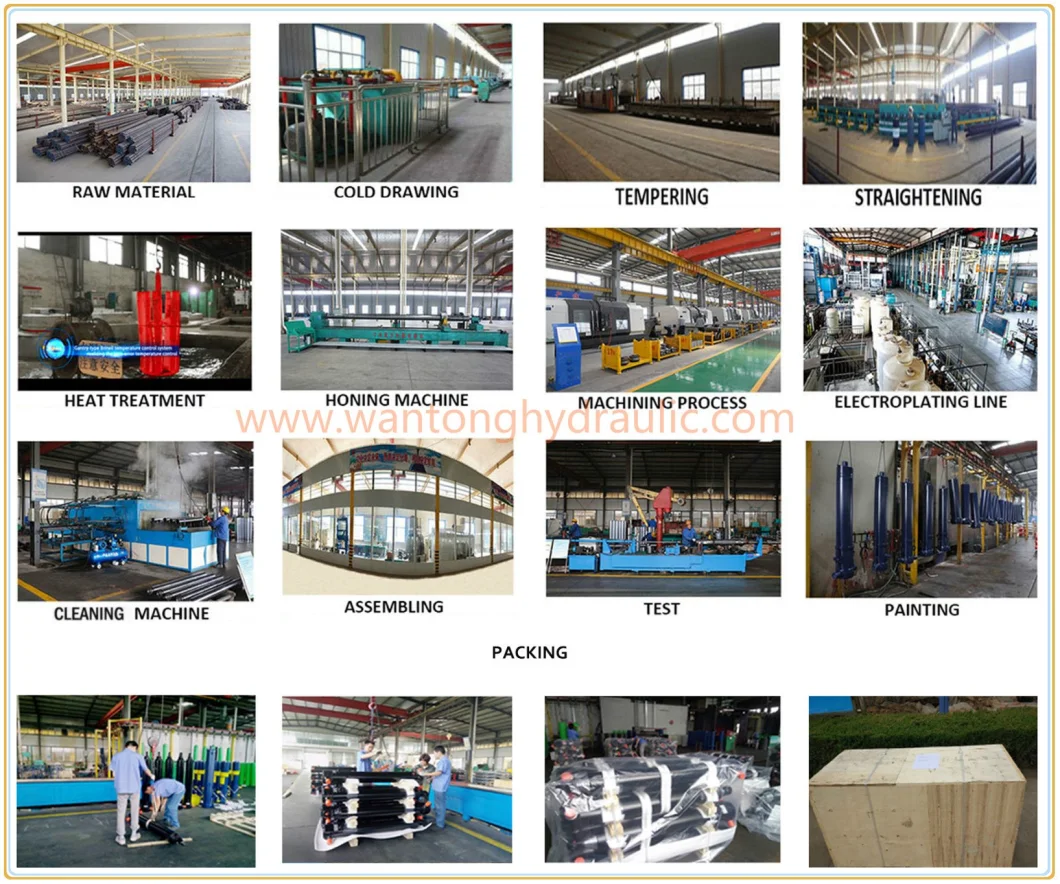 3.Certificate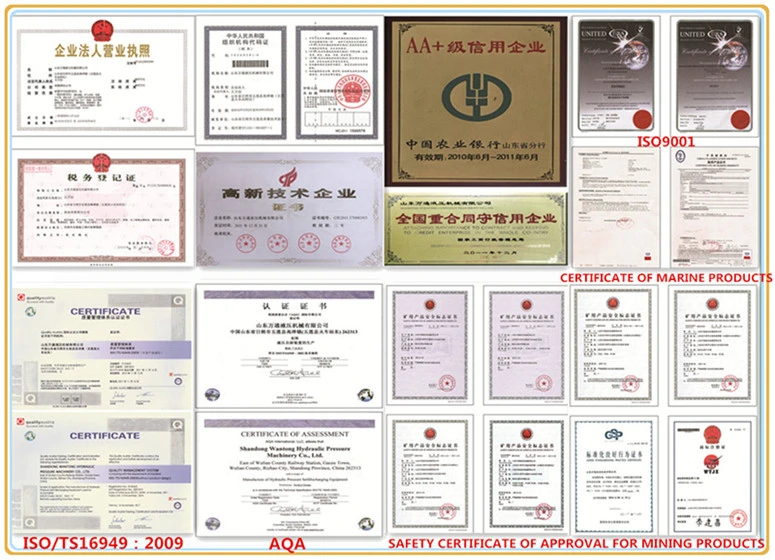 4.Quality guarantee system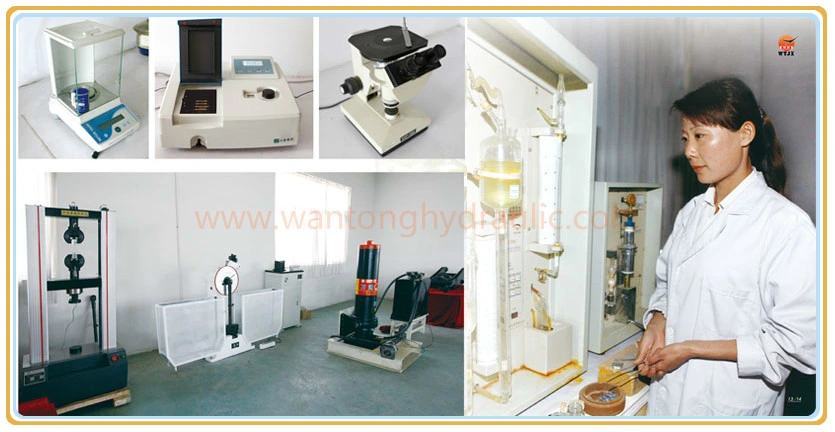 Program before Delivery
1. Trial Operation Test
2. Start-up Pressure Test
3. Pressure-Tight Test
4. Leak Test
5. Full Stroke Test
6. Buffer Test
7. Testing the Effect of Limit
8. Load Efficiency Test
9. Reliability Test
Every piece of hydraulic cylinder are tested and will send out only after they are pasted the each test
5..Guarantee and after sale service:
>7 x 24 hours technical support through email
>Goods will be delivered safely on time
>Warranty within 14 months of the factory date
>Life long time track service
6.Why Wantong?
1.Complete Manufacturing Processes:
The company has complete and total manufacturing processes from raw material entering to factory and up to the final finished products to customer.Which all are done under same premises.Therefore we can control the quality and delivery time at our best.
2.Strict Quality Control system:
We have gained ISO/TS16949, CCRI, CCS, and DNV AND ABS, API,etc and the quality of the products has been controlled in strict accordance with the certification standard.
3.Rich Market Experiences:
Many years cooperation with famous brands,likeSINOTRUK,CIMC,SHACMAN,ZMJ and YANKUANG GROUP.
7.FAQ:

Q1: Are you a manufacture or a trade company?


Answer: Manufacture, we are the leader manufacturer of hydraulic industry in China with 20 years experience and technology

.

Q2: Do you have quality control system?


Answer: Yes, The quality management system introduced is: ISO/TS 16949:2009-certified by NQA and IATF cert.



Q3: How can i get a booklet and buy a cylinder from you?


Answer: Very easy! Just leave me a message or email and tell me your requirement, let me know you are interesting in our products.I will talk with you for the details soon!



Q4: Can you tell me the price for the cylinder?


Answer:




1. Please help inform your drawing with detail requirement.




2. Please help inform the cylinder NO. after you check our booklet.




3. Please help inform the tipping capacity, strokes, number of stages, closed length, mounting type and size and other information.




4. Please also help inform the quantities, this is very important.




5. Your destination port.



Q5: Do your products come with a warranty?


Answer: Yes, we have one year warranty. In this year, if the quality problem we will free repair for you.



Q6: Can I customize our products from you?


Answer: Yes, we can make products according to your requirements. Please kindly send me your specifications and drawings.



Q7: Can you help me to install or give me advice about what kind of hydraulic cylinder or power pack should I use for specific machine?


Answer: Yes, we have 25 experienced engineers who are always ready to help you. If you do not know what kind of hydraulic cylinders should be used in your machine, please just contact us, our engineers will help you to design the exact products you need.



Q8: What is the delivery time?


Answer:




20 days for mass production, which is depend on quality, production process and so on.



Q9: What is your main payment itme?


Answer: T/T and L/C.
8..Dream
*Company vision:Act as the laeder of internal hydraulic industry
*Enterprise concept:Better and stronger
*Core values:Learning and innovation,equality and justice,customers the first,and quality winning the world
*Enterprise spirit:Complete sincerity,complete precision more excellent,and up to date
*Quality policy:Pursue zero defects of our products,and realize zeo customers' complains
*Company type:Respond quickly,act immediately,finish what to do today,and improve day after day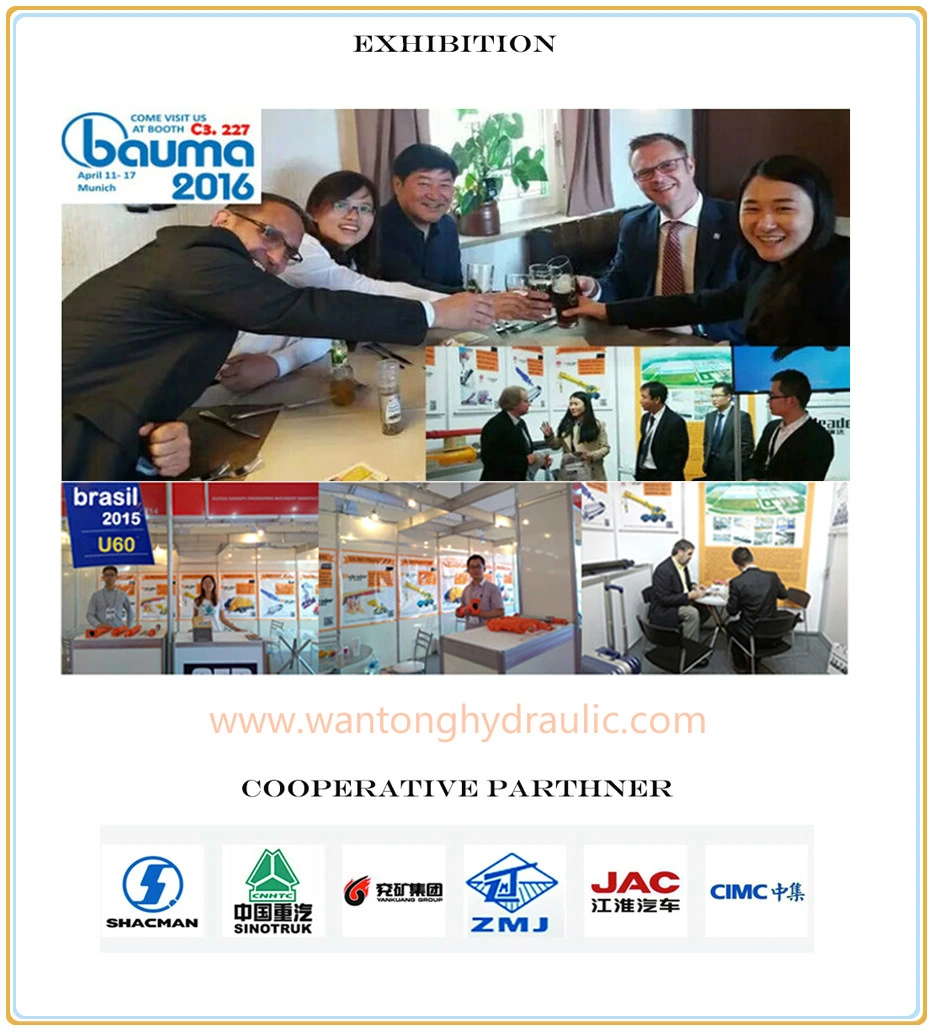 9..CONTACT US
Shandong wantong hydraulic co.,ltd.
Add:500m east of Wulian Railway Station ,Rizhao city,Shandong Province,China
A specialized hydraulic design,R&D,and manufacturing enterprise
Web:wthydraulic.en.made-in-china.com