Description
SOV
high tonnage double acting hydraulic cylinders are designed specifically for heavy lifting up to 1,000 tons
§
Integral stop ring provides piston blow-out protection
§
Double-acting for positive retraction
§
Baked enamel outside finish and plated pistons provide superior corrosion resistance
§
Safety valve in retract side of cylinder helps to prevent damage in case of accidental over-pressurization
§
Interchangeable, hardened grooved saddles are standard
§
Plunger wiper reduces contamination, extending cylinder life
Product Parameter
Model Number

Cylinder




Capacity

Stroke

Maximum




Cylinder Capacity




(kN)

Cylinder




Effective Area




(cm2)

Oil




Capacity




(cm3)

Coll. Heig

ht




(A)

Ext.




Heigh

t




(B)

Outside




Dia.




(D)

Weight

ton

mm

Push

Pull

Push

Pull

Push

Pull

mm

mm

mm

kg

SOV-CLRG-502

50

50

539

269

77,0

38,5

385

192

162

212

130

17

SOV-CLRG-504

100

539

269

77,0

38,5

770

385

212

312

130

20

SOV-CLRG-506

150

539

269

77,0

38,5

1155

577

262

412

130

23

SOV-CLRG-508

200

539

269

77,0

38,5

1540

770

312

512

130

27

SOV-CLRG-5010

250

539

269

77,0

38,5

1924

962

362

612

130

31

SOV-CLRG-5012

300

539

269

77,0

38,5

2309

1155

412

712

130

34

SOV-CLRG-1002

100

50

929

433

132,7

61,9

664

309

179

229

165

29

SOV-CLRG-1004

100

929

433

132,7

61,9

1327

619

229

329

165

34

SOV-CLRG-1006

150

929

433

132,7

61,9

1991

928

279

429

165

40

SOV-CLRG-1008

200

929

433

132,7

61,9

2655

1237

329

529

165

46

SOV-CLRG-10010

250

929

433

132,7

61,9

3318

1546

379

629

165

52

SOV-CLRG-10012

300

929

433

132.7

61,9

3982

1856

429

729

165

58

SOV-CLRG-1502

150

50

1390

675

198,6

96,5

993

482

196

246

205

39

SOV-CLRG-1504

100

1390

675

198,6

96,5

1986

965

246

346

205

52

SOV-CLRG-1506

150

1390

675

198,6

96,5

2978

1447

296

446

205

65

SOV-CLRG-1508

200

1390

675

198,6

96,5

3971

1930

346

546

205

78

SOV-CLRG-15010

250

1390

675

198,6

96,5

4964

2412

396

646

205

92

SOV-CLRG-15012

300

1390

675

198,6

96,5

5957

2895

446

746

205

105

SOV-CLRG-2002

200

50

1861

889

265,9

127,0

1330

635

212

262

235

55

SOV-CLRG-2006

150

1861

889

265,9

127,0

3989

1905

312

462

235

91

SOV-CLRG-20012

300

1861

889

265,9

127,0

7977

3809

462

762

235

146

SOV-CLRG-2502

250

50

2565

1068

366,4

152,6

1832

763

235

285

275

89

SOV-CLRG-2506

150

2565

1068

366,4

152,6

5497

2289

335

485

275

136

SOV-CLRG-25012

300

2565

1068

366,4

152,6

10993

4578

485

785

275

207

SOV-CLRG-3002

300

50

3193

1060

456,2

151,4

2281

757

322

372

310

184

SOV-CLRG-3006

150

3193

1060

456,2

151,4

6843

2270

422

572

310

232

SOV-CLRG-30012

300

3193

1060

456,2

151,4

13685

4541

572

872

310

303

SOV-CLRG-4002

400

50

3919

1354

559,9

193,5

2800

967

374

424

350

270

SOV-CLRG-4006

150

3919

1354

559,9

193,5

8399

2902

474

624

350

330

SOV-CLRG-40012

300

3919

1354

559,9

193,5

16797

5804

624

924

350

421

SOV-CLRG-5002

500

50

5114

1733

730,6

247,6

3653

1238

419

469

400

401

SOV-CLRG-5006

150

5114

1733

730,6

247,6

10959

3713

519

669

400

480

SOV-CLRG-50012

300

5114

1733

730,6

247,6

21918

7427

669

969

400

599

SOV-CLRG-6002

600

50

5987

2068

855,3

295,4

4276

1477

429

479

430

474

SOV-CLRG-6006

150

5987

2068

855,3

295,4

12829

4431

529

679

430

565

SOV-CLRG-60012

300

5987

2068

855,3

295,4

25659

8862

679

979

430

701

SOV-CLRG-8002

800

50

8234

2709

1176,3

387,0

5881

1935

484

534

505

741

SOV-CLRG-8006

150

8234

2709

1176,3

387,0

17644

5806

584

734

505

868

SOV-CLRG-80012

300

8234

2709

1176,3

387,0

35288

11611

734

1034

505

1058

SOV-CLRG-10002

1000

50

10260

3792

1465,7

541,7

7329

2709

564

614

560

1062

SOV-CLRG-10006

150

10260

3792

1465,7

541,7

21986

8126

664

814

560

1213

SOV-CLRG-100012

300

10260

3792

1465,7

541,7

43972

16252

814

1114

560

1439
Models above 150 ton are also available with standard stroke lengths of 100, 200 and 250 mm.
Application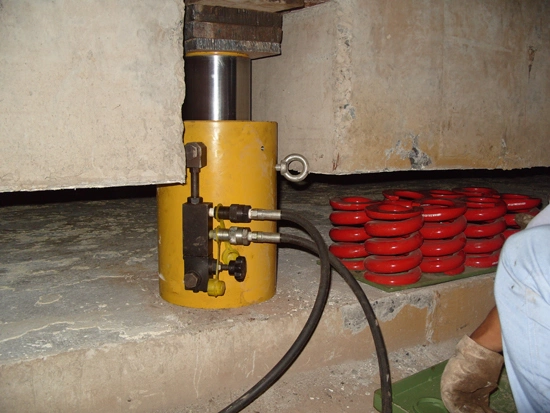 High Tonnage Double Acting Hydraulic Cylinders ( synchronous lifting for urban overpass )
Package and Delivery
1. Outer packing: standard export wooden case
2. Inner packing: careful stretch film and cardboard
3. Lead time: 1~3workdays when products in stock, 7~15workdays when out of stock
4. Delivery time: Prompt delivery
Shipping Methods
1. Light Weight: by international air express, within 3-7days arriving
2. Heavy Weight: by ocean cargo, arriving time depends on your destination port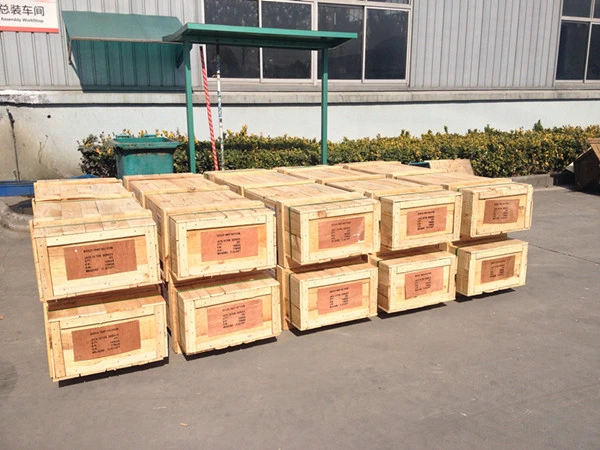 Company information
Shanghai SOV Hydraulic Technology Co., Ltd is a manufacturer engaged in design and manufacturing hydraulic cylinders (capacity covers from 10- 1000 tons), synchronous PLC hydraulic system, hydraulic bumps, hydraulic torque wrenches, and electric torque wrenches, and hydraulic components.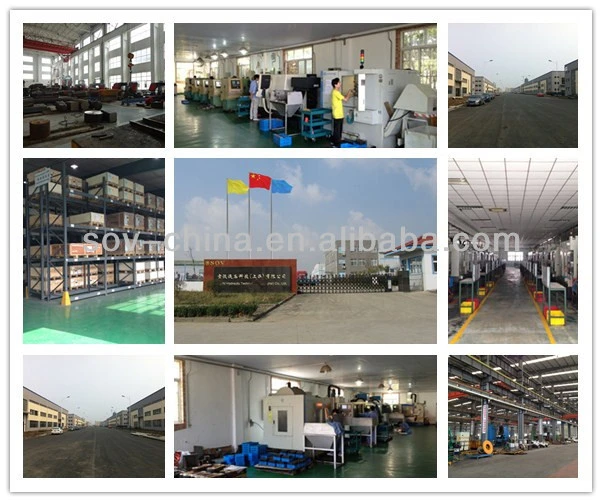 Certificate
Since the establishment in 1995, we successfully transformed from OEM manufacturer for Enerpac, Titan, to create our own brand SOV, and our factory has been approved by CE, ISO9001:2008 consecutively.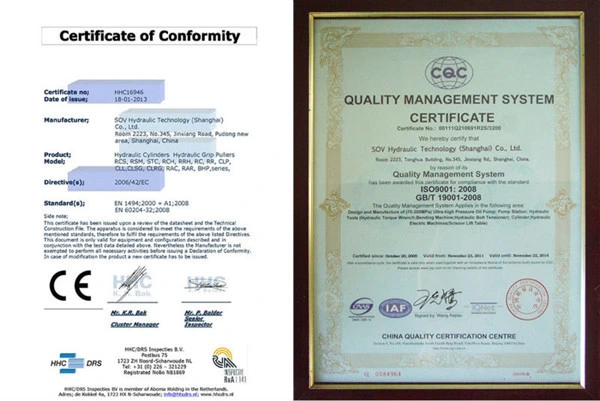 Clients
Our customers includes many big Chinese industrial companies, such as China Petroleum, Baosteel, Sinopec, China State Grid, Jiangnan Shipyards, Sany Group, China Railway Construction Corporation. Our synchronous PLC hydraulic system had played a great role in the China high-speed railway constructions. In 2011, our sales revenue reached 30 million USD, making us one of the leaders in the Chinese hydraulic cylinders market especially in the extra-high hydraulic cylinders for industrial area and construction field.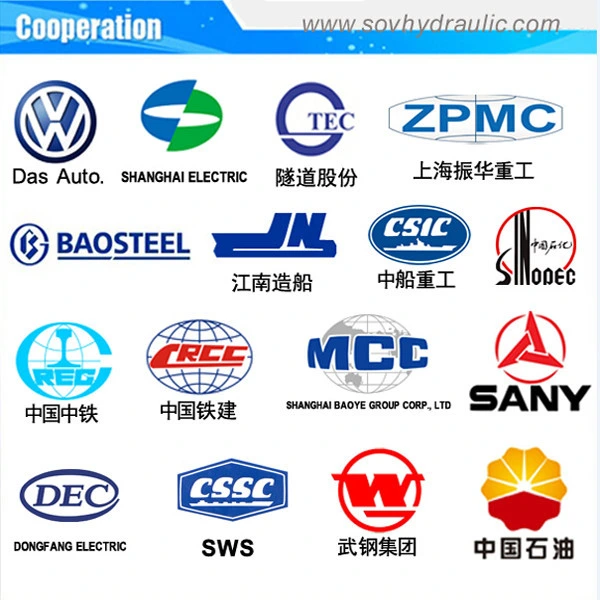 Main Products
We are a manufacturer in tools, such as:
•Hydraulic cylinders, jacks (5-3000ton), single acting and double acting, hollow plunger; low height, ultra pressure, lock nut
•Hydraulic torque wrench, electric torque wrench, pneumatic torque wrench (100-160000Nm);
•Hydraulic bolt tensioner (M24-M600); Hydraulic pullers;
•Hydraulic pumps, manual and electric type (max up to 4000bar);
•Integrated hydraulic lifting system solutions ( 4-99 points lifting system for house translation or leveling, bridge supporting and tank welding supporting)
•Hydraulic nut and couplings. (M50-Tr1000), hydraulic hose
Our products have been widely used in industrial field such as steel plant, cement industry, chemical and refinery, bridge, railway construction and maintenance.
Competitive Advantages
1. High quality in competitive price;
2. Low minimum order quantity;
3. Wide range of products for your reference;
4. Good customer service: Customer satisfaction is our primary goal. Prompt, professional service offered by passionate and patient international salespeople.
5. OEM services: Customer's LOGO engraving, customized packaging, and produces the products according to customers' design, etc.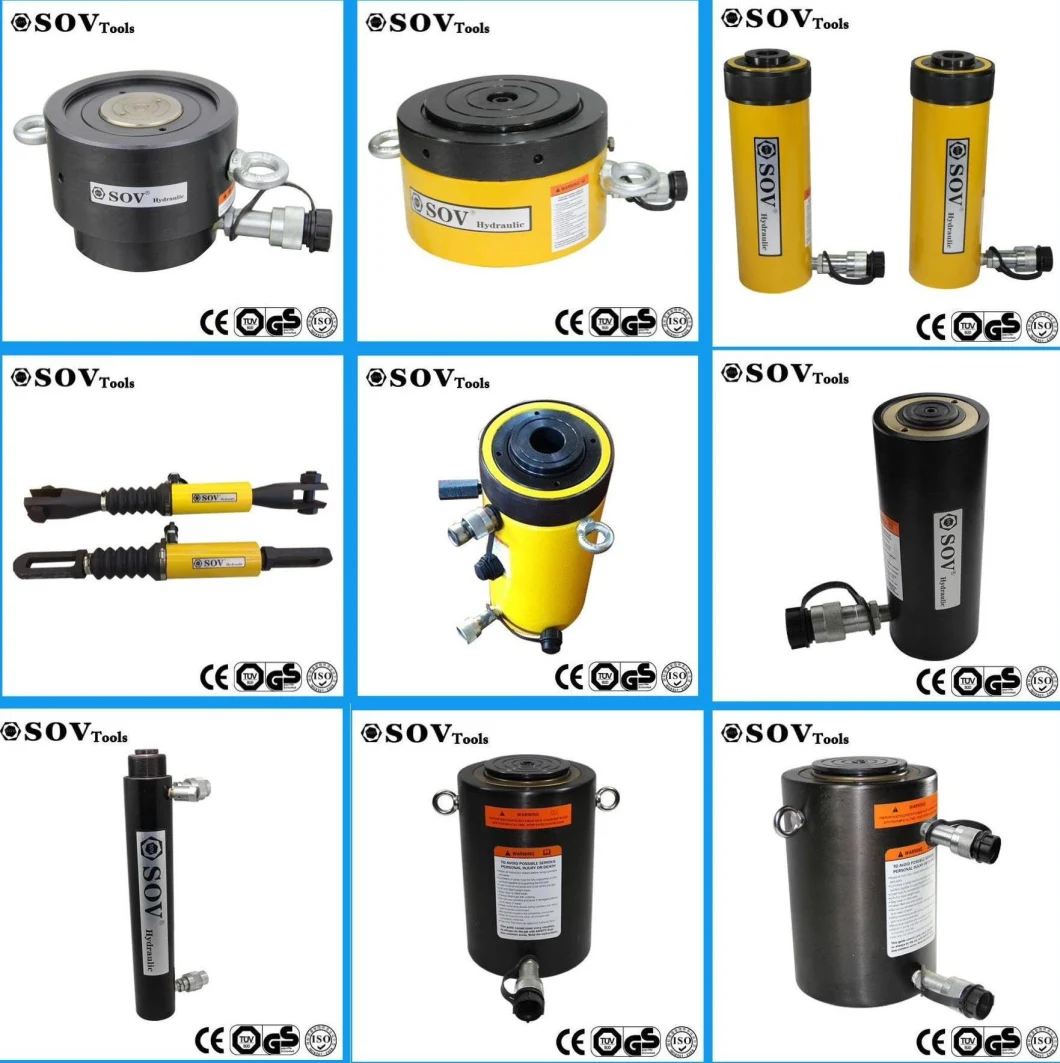 WHY DO YOU NEED SOV?
Q1: What's the brand name of your products?
A: Own brand "SOV", WE ARE GERMANY OWNED FACTORY. OEM is also available as required.
Q2: Hydraulic cylinder internal leakage?
A: There are 3 main reasons causing internal leakage: Overload, polishing is not well controlled, bad seal kits. As is known to all, vehicles in China are often overload, our products all designed to bear the overload power. We have numerical control machine to assure the polish processing .And we use the imported seals to meet customers' demands.
Q3: Does your piston rod get ruptured easily?
A: Hard chrome plating quenched and tempered 45# steel for piston rod to assure sufficient hardness and toughness.
Q4: Is your design reasonable? What about your product safe coefficient?
A: We have R&D team with abundant design experience. We also established production, education, and research cooperation with universities. Rest assured.
Q5: How about the delivery time?
A: Over 1000 sets advanced equipments to meet customer's large demand in short delivery time. Generally, it's 7-20 days.
Q6: What's the after-service?
A: If the quality can't meet your requirement, we will pay all your lost and offer technical support to solve your problem.
Please feel free to contact me:
Cherry Chen I Manager I
Mobile: 0086 18918158136