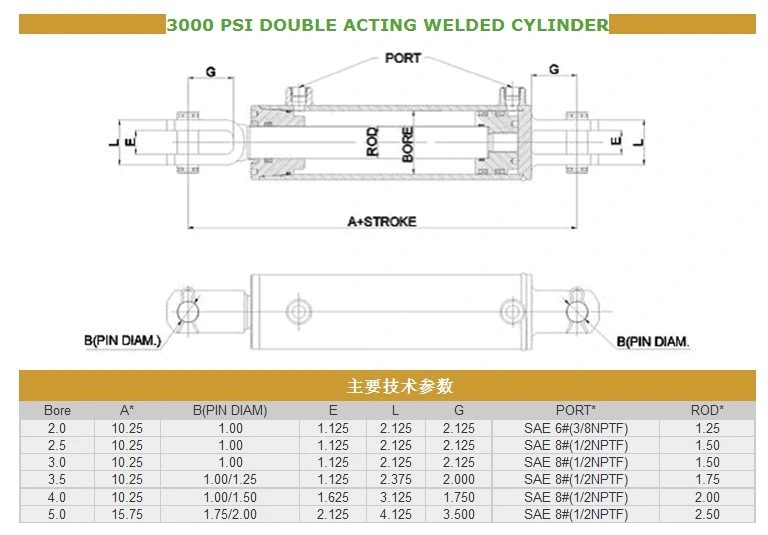 A*: 12.50" for 8" stroke ASAE cylinders and 15.50" for 16" stroke ASAE cylinders;
PORT*: SAE port is standard and NPTF is available;
ROD*: Rod diam. of CY3524-200CW is 2".

STANDARD FEATURES:
Double-acting applications;
Heavy duty welded construction;
Standard color: Black;
All Seals: Manufactured to US specification;
Ports: SAE(NPTF port or other can be available);
100% hydro-pressure test;
Rod surface treatment: Superior quality chrome plated;
Standard: B type piston(optional: A type piston);
Apply LOCTITE to rod end thread.
SPECIFICATION
MODEL

BOREXSTROKE (inches)

CENTER TO CENTER OF PIN(inches)

WEIGHT(lbs)

retracted

extended

CY2004CW

2 X 4

14 1/4

18 1/4

14.0

CY2006CW

2 X 6

16 1/4

22 1/4

16.0

CY2008CW

2 X 8

18 1/4

26 1/4

18.0

CY2008CW-ASAE

2 X 8

20 1/4

28 1/4

19.0

CY2010CW

2 X10

22 1/4

30 1/4

20.0

CY2012CW

2 X 12

24 1/4

34 1/4

21.0

CY2014CW

2 X 14

26 1/4

38 1/4

23.0

CY2016CW

2 X 16

28 1/4

42 1/4

25.0

CY2016CW-ASAE

2 X 16

31 1/2

47 1/2

27.0

CY2018CW

2 X 18

30 1/4

46 1/4

26.0

CY2020CW

2 X 20

34 1/4

50 1/4

28.0

CY2024CW

2 X 24

38 1/4

58 1/4

31.0

CY2028CW

2 X 28

40 1/4

66 1/4

35.0

CY2030CW

2 X 30

42 1/4

70 1/4

37.0

CY2032CW

2 X 32

44 1/4

74 1/4

38.0

CY2034CW

2 X 34

46 1/4

78 1/4

40.0

CY2036CW

2 X 36

48 1/4

82 1/4

42.0

CY2040CW

3 X 40

50 1/4

90 1/4

46.0

CY2048CW

4 X 48

58 1/4

106 1/4

54.0

CY2504CW

2 1/2 X 4

14 1/4

18 1/4

18.0

CY2506CW

2 1/2 X 6

16 1/4

22 1/4

20.0

CY2508CW

2 1/2 X 8

18 1/4

26 1/4

22.0

CY2508CW-ASAE

2 1/2 X 8

20 1/4

28 1/4

23.0

CY2510CW

2 1/2 X10

20 1/4

30 1/4

25.0

CY2512CW

2 1/2 X 12

22 1/4

34 1/4

27.0

CY2514CW

2 1/2 X 14

24 1/4

38 1/4

29.0

CY2516CW

2 1/2 X 16

26 1/4

42 1/4

31.0

CY2516CW-ASAE

2 1/2 X 16

31 1/2

47 1/2

34.0

CY2518CW

2 1/2 X 18

28 1/4

46 1/4

34.0

CY2520CW

2 1/2 X 20

30 1/4

50 1/4

36.0

CY2524CW

2 1/2 X 24

34 1/4

58 1/4

40.0

CY2528CW

2 1/2 X 28

38 1/4

66 1/4

45.0

CY2530CW

2 1/2 X 30

40 1/4

70 1/4

47.0

CY2532CW

2 1/2 X 32

42 1/4

74 1/4

49.0

CY2534CW

2 1/2 X 34

44 1/4

78 1/4

51.0

CY2536CW

2 1/2 X 36

46 1/4

82 1/4

54.0

CY2540CW

2 1/2 X 40

50 1/4

90 1/4

60.0

CY2548CW

2 1/2 X 48

58 1/4

106 1/4

72.0
CY3004CW

3 X 4

14 1/4

18 1/4

21.0

CY3006CW

3 X 6

16 1/4

22 1/4

24.0

CY3008CW

3 X 8

18 1/4

26 1/4

26.0

CY3008CW-ASAE

3 X 8

20 1/4

28 1/4

27.0

CY3010CW

3 X10

20 1/4

30 1/4

29.0

CY3012CW

3 X 12

22 1/4

34 1/4

31.0

CY3014CW

3 X 14

24 1/4

38 1/4

34.0

CY3016CW

3 X 16

26 1/4

42 1/4

36.0

CY3016CW-ASAE

3 X 16

31 1/2

47 1/2

39.0

CY3018CW

3 X 18

28 1/4

46 1/4

39.0

CY3020CW

3 X 20

30 1/4

50 1/4

41.0

CY3024CW

3 X 24

34 1/4

58 1/4

46.0

CY3028CW

3 X 28

38 1/4

66 1/4

51.0

CY3030CW

3 X 30

40 1/4

70 1/4

53.0

CY3032CW

3 X 32

42 1/4

74 1/4

56.0

CY3034CW

3 X 34

44 1/4

78 1/4

58.0

CY3036CW

3 X 36

46 1/4

82 1/4

61.0

CY3040CW

3 X 40

50 1/4

90 1/4

67.0

CY3048CW

3 X 48

58 1/4

106 1/4

79.0

CY3504CW

3 1/2 X 4

14 1/4

18 1/4

31.0

CY3506CW

3 1/2 X 6

16 1/4

22 1/4

34.0

CY3508CW

3 1/2 X 8

18 1/4

26 1/4

37.0

CY3508CW-ASAE

3 1/2 X 8

20 1/4

28 1/4

39.0

CY3510CW

3 1/2 X10

20 1/4

30 1/4

40.0

CY3512CW

3 1/2 X 12

22 1/4

34 1/4

43.0

CY3514CW

3 1/2 X 14

24 1/4

38 1/4

46.0

CY3516CW

3 1/2 X 16

26 1/4

42 1/4

49.0

CY3516CW

3 1/2 X 16

31 1/2

47 1/2

53.0

CY3518CW

3 1/2 X 18

28 1/4

46 1/4

52.0

CY3520CW

3 1/2 X 20

30 1/4

50 1/4

55.0

CY3524CW

3 1/2 X 24

34 1/4

58 1/4

61.0

CY3524-200CW

3 1/2 X 24

34 1/4

58 1/4

66.0

CY3528CW

3 1/2 X 28

38 1/4

66 1/4

68.0

CY3530CW

3 1/2 X 30

40 1/4

70 1/4

71.0

CY3532CW

3 1/2 X 32

42 1/4

74 1/4

74.0

CY3534CW

3 1/2 X 34

44 1/4

78 1/4

77.0

CY3536CW

3 1/2 X 36

46 1/4

82 1/4

80.0

CY3540CW

3 1/2 X 40

50 1/4

90 1/4

86.0

CY3548CW

3 1/2 X 48

58 1/4

106 1/4

98.0
CY4004CW

4 X 4

14 1/4

18 1/4

46.0

CY4006CW

4 X 6

16 1/4

22 1/4

51.0

CY4008CW

4 X 8

18 1/4

26 1/4

55.0

CY4008CW-ASAE

4 X 8

20 1/4

28 1/4

57.0

CY4010CW

4 X10

20 1/4

30 1/4

59.0

CY4012CW

4 X 12

22 1/4

34 1/4

63.0

CY4014CW

4 X 14

24 1/4

38 1/4

67.0

CY4016CW

4 X 16

26 1/4

42 1/4

72.0

CY4016CW-ASAE

4 X 16

31 1/2

47 1/2

76.0

CY4018CW

4 X 18

28 1/4

46 1/4

76.0

CY4020CW

4 X 20

30 1/4

50 1/4

80.0

CY4024CW

4 X 24

34 1/4

58 1/4

88.0

CY4028CW

4 X 28

38 1/4

66 1/4

97.0

CY4030CW

4 X 30

40 1/4

70 1/4

101.0

CY4032CW

4 X 32

42 1/4

74 1/4

105.0

CY4034CW

4 X 34

44 1/4

78 1/4

109.0

CY4036CW

4 X 36

46 1/4

82 1/4

113.0

CY4040CW

4 X 40

50 1/4

90 1/4

121.0

CY4048CW

4 X 48

58 1/4

106 1/4

137.0

CY5004CW

4 X 4

19 3/4

23 3/4

95.0

CY5006CW

4 X 6

21 3/4

27 3/4

102.0

CY5008CW

4 X 8

23 3/4

31 3/4

108.0

CY5010CW

4 X10

25 3/4

35 3/4

114.0

CY5012CW

4 X 12

27 3/4

39 3/4

121.0

CY5014CW

4 X 14

29 3/4

43 3/4

127.0

CY5016CW

4 X 16

31 3/4

47 3/4

134.0

CY5018CW

4 X 18

33 3/4

51 3/4

140.0

CY5020CW

4 X 20

35 3/4

55 3/4

146.0

CY5024CW

4 X 24

39 3/4

63 3/4

159.0

CY5028CW

4 X 28

43 3/4

71 3/4

172.0

CY5030CW

4 X 30

45 3/4

75 3/4

178.0

CY5032CW

4 X 32

47 3/4

79 3/4

185.0

CY5036CW

4 X 36

51 3/4

87 3/4

197.0

CY5040CW

4 X 40

55 3/4

95 3/4

211.0

CY5048CW

4 X 48

63 3/4

111 3/4

239.0